Followers on Facebook
Followers on Facebook
Do you have followers on Facebook? Are you following folks on Facebook?
Have you checked your privacy settings lately regarding followers?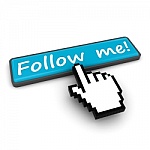 What are Followers on Facebook?
Followers may be people you didn't accept as a friend on Facebook when they sent you a friend request. Or perhaps they found your personal profile on Facebook and chose to follow you rather than ask you to be friends with them on Facebook.
Here is a link to information about followers: https://www.facebook.com/about/follow
Though as an aside, I find it curious that when giving examples of people to follow that Tim Tebow would be suggested along with Arianna Huffington and Sheryl Sandberg. You would think that Facebook would find a more successful professional quarterback to reference. But I digress….
Finding the Best Option for Limiting Access to Personal Profile Postings
Recently a friend of mine was posting on Facebook about his concern over one of his Facebook followers. My friend said that he didn't want this follower to be able to read my friend's personal profile postings.
Of course, my friend could always review each post as he posted it and determine which audience of people he was fine with seeing his post.
However, for someone like my friend, who tends to post a lot, this strategy would be very time consuming.

Blocking Someone on Facebook
I suggested to my friend that he just block the person he didn't want to have as a follower. I believe that was the option that he settled on.
Blocking a person is very simple to do from the privacy settings, and you find those at this link: https://www.facebook.com/settings?tab=blocking
Per Facebook:
"Once you block someone, that person can no longer see things you post on your timeline, tag you, invite you to events or groups, start a conversation with you, or add you as a friend."
Adjusting the Privacy Setting Related to Followers
Let's say that you only want your Facebook friends to see what you post on Facebook. You don't want your followers to have access to that information.
In that case, you will need to uncheck the box at the top of this section on followers in the privacy settings of Facebook: https://www.facebook.com/settings?tab=followers
My friend didn't realize that Facebook's default was to keep this box checked. That's why I thought I would write this blog post, just in case you had the same impression.
Back to You
I am just curious – are you fine with having followers on Facebook who can see what is up with you via your posts on your personal profile? Or do you prefer to have only your FB friends see your posts?
Remember to adjust your privacy settings to reflect your preferences.
About Joyce
Joyce Feustel, Founder of Boomers' Social Media Tutor, helps people relatively new to social media to become more effective and comfortable in their use of this medium. Find her at www.boomerssocialmediatutor.com