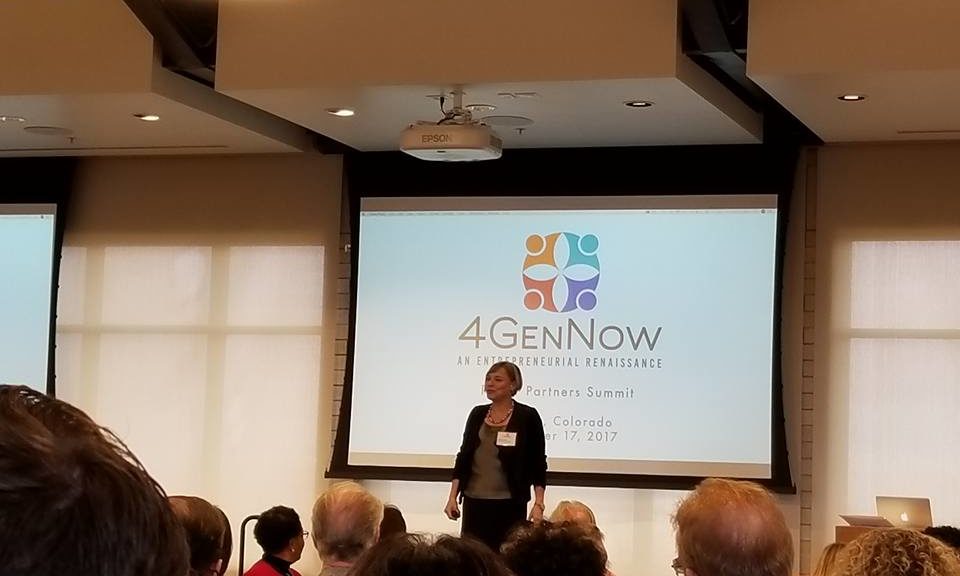 An Entrepreneurial Renaissance: Connecting 4 Generations of Entrepreneurs
An Entrepreneurial Renaissance: Connecting 4 Generations of Entrepreneurs
Would you like to be part of an entrepreneurial renaissance connecting four generations of entrepreneurs?
If so, consider joining the movement inspired by 4GenNow. This movement is gaining momentum around this country, as well as in other parts of the world.
On November 17, I had the privilege of being one of nearly 200 people attending their first-ever Power Partners Summit. Sponsored by 4GenNow, it was held at the University of Denver in Denver, Colorado. One of the best parts of the day for me was the talk by Amy Lynch (pictured above),  Generations Leadership Expert. She provided so many helpful perspectives on these four generations.
It was fascinating to be part of this mix of Baby Boomers, Gen Xers, Millennials, and Generation Zers. We all made promising new connections, often with folks of different generations. The information we shared and learned about generational differences and starting up a business was invaluable.
What is the Mission of 4GenNow?
The movement known as 4GenNow is the brainchild of Jim and Samantha Sugarman, a father-daughter business partnership. They are pictured below.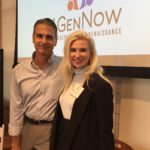 Here is my paraphrasing of their mission statement: "We match and advise four generations of entrepreneurs: Millennial, Baby Boomer, Gen X, and Gen Z on how find and build intergenerational startups. By fostering these connections, we are unleashing an Entrepreneurial Renaissance and fueling economic growth in both urban and rural areas through the US and Europe."
Benefits of having intergenerational co-founders include:
Diversity of know-how
Increased availability of funding
Uncovering more market niches
More likely to anticipate costly pitfalls
Ability to tap into a larger pool of technological skills.
What Does 4GenNow Offer?
Power Partner Summits, like the one I just attended. Per the 4GenNow website: "these summits link you to our 4GenNow community members with in-person networking, in-depth roundtable discussions, and actionable presentations from successful intergenerational startups."
Online LinkedIn Community and over 20 Meetup Chapters around the world. As you know, LinkedIn provides virtual idea-sharing and networking. The local Meetup chapters offer monthly face-to-face educational programs, idea-sharing, and networking.
Advice and Consulting for people looking to develop intergenerational business partnerships and collaborations.
You can learn more about 4GenNow in their own words on their website, www.4gennow.com
My Own Intergenerational Collaborations
One of the reasons I was so drawn to 4GenNow and its mission is that I've had remarkable success with intergenerational collaborations.
Examples of me as a baby boomer collaborating successfully with people from other generations include:
Participating in a master mind group with two members of the millennial generation who have provided me amazing insights.
Co-teaching a successful workshop on social media and search engine optimization with a millennial who specializes in SEO.
Serving on a leadership team for a growing business networking organization with several Gen Xers.
Collaborating with Millennials and Gen Xers to create and sustain a dynamic organization of women who work in social media.
How About You?
What kinds of intergenerational collaborations and/or partnerships have you experienced? How have they unfolded?
About Joyce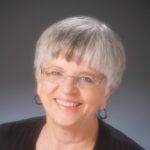 Joyce Feustel helps people, especially those ages 45 and older, to become more comfortable using social media, especially Facebook, LinkedIn, Pinterest, and Twitter.
She works with business owners, business development professionals, leaders of nonprofit organizations, job seekers, consultants, and many others. Find her at www.boomerssocialmediatutor.com.